Light Up Your Season With Home Automation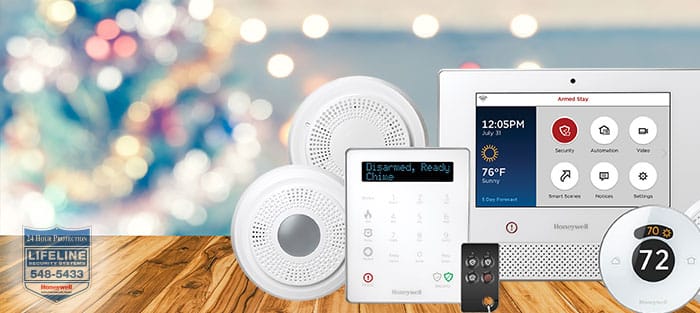 With the holiday season upon us, we have many things on our minds from finding that perfect gift and getting our holiday lighting just right to making our home safe and comfortable for our visiting friends and family. It may seem like an impossible task to get it all done but we do not need the magic of St. Nick or a team of elves to accomplish the tasks. We just need the right tools. That's where Lyric Gateway comes in.
What is Lyric Gateway?
Technology seems to be moving at the speed of light and Honeywell is happily always one step ahead, as it is with Lyric Gateway. The Lyric Gateway serves as the central hub for your security, lifestyle management, lights, locks, thermostats and more – all controlled from an integrated touchpad and wirelessly on smart devices. Lyric Gateway comes with built-in wifi and Z-wave technology, making your home smarter and your tasks easier.
Your Own Elves
Holiday schedules are jam packed with things to do, so a little support in areas where you can get it can sure help alleviate the load. Lyric's wireless platform provides that support. Need to schedule your holiday lights or forget to turn them off? Would you like to make sure the house is cooled off enough for Aunt Mary's arrival? No problem, just tap the app and done.
Home Security and Home Automation Integration
Lyric works with sensors featuring Honeywell SiX two-way wireless technology. The encrypted devices enhance the effectiveness of your security system while providing you with whole house protection. When integrated with home automation, all of your solutions come to life in a fresh, new, and highly accessible way. Lyric makes it easy to set scenes for energy savings, comfort, or security. So, if you are going off to a holiday gathering the lights go off, garage door locks, security system on, and the thermostat sets to an energy saving setting.
Don't Worry if You Aren't Super Techy
We totally understand. Technology can be overwhelming and complicated. But you can rest easy with Lyric. Lyric provides friendly and informative voice guidance that walks you through every step. Now we can look as techy as we'd like without actually having to invest all the time needed in being techy.
Lyric Gateway is one of the newest ways to simplify your life and, of course manage all of the holiday hustle and bustle. If you would like more information about the new Lyric Gateway, give Lifeline Fire and Security a call. Lifeline's local office and local staff has been proudly proving service to the community since 2002.

Latest posts by Mariette Lowe
(see all)