Scooter Scoping in Honolulu Auto Lot | Lifeline Proactive Video Monitoring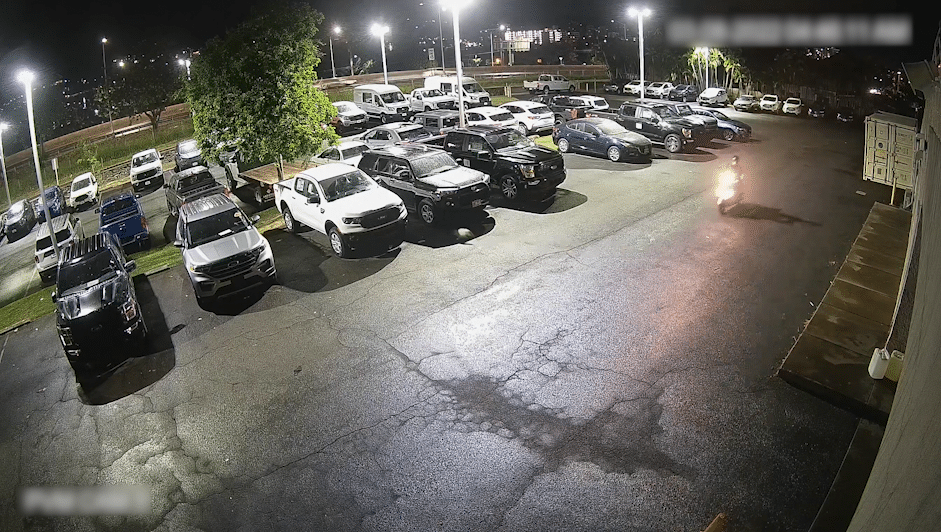 This Lifeline Hawaii clip isn't as innocent as it seems. 
On the surface, you might dismiss this clip as just some guy cruising around a car lot to check out cars. After all, it is in full view of the multitude of people passing along the highway. And, what can you take away on a scooter if you intended to steal? 
In actuality, it's highly suspicious. 
Those planning on perpetrating large-scale crimes will often scope out the scene first to figure out the lay of the property and test the security on the premises. 
Fortunately for this group, they have Lifeline Proactive Video Monitoring which provides an immediate live response making it a very difficult target. 
And that is the power of Lifeline PVM.
Why is Lifeline Proactive Video Monitoring Such an Advantage?
Proactive Video Monitoring combines video surveillance, advanced analytics, and live proactive monitoring and security intervention into one powerful solution. It can cover your entire facility at once, never sleeps, and never misses a beat. Proactive Video Monitoring eliminates many of the problems associated with other solutions, such as the cost and limitations of live guards. This is especially helpful to businesses that rely on these services to protect their inventory after business hours. 
Proactive Video Monitoring Features include:
24/7 continuous intelligent monitoring

Real-time detection and intervention

High-quality footage

Fast response times

Live audio warnings

Preventative response

No false alarms

Customized customer protocols

Proprietary CRM to build and manage locations
Top Advantages
Replace the cost and inefficiencies of guards

Increase the area being actively monitored

Reduce the hassle and expense of nuisance alarms

Significantly improve safety and security

Reduce the cost of recovering from crimes such as vandalism

Increase situational awareness
About Lifeline
Lifeline Fire & Security is the region's premier provider of commercial Proactive Video Monitoring solutions and is the only Authorized Honeywell / First Alert Professional Dealer in Hawaii. The company is an active participant in many community outreach activities to help better the lives of our residents and has been serving the community for 20 years. 
For more information about Lifeline and how we can help protect your business while decreasing the cost of security, call us at (808) 548-5433

Latest posts by Mariette Lowe
(see all)