Reliability. Stability. Performance.
Like the waterfalls of Manawaiopuna or the evergreen hills of Waimea Canyon, our service remains built on the stable and predictable products of our industry partners. 
Lifeline Fire & Security is pleased to partner with Honeywell, the world's leading global manufacturer of security and automation solutions for residential and commercial applications. From intrusion, fire and home automation systems, to the latest in IP video and access control, Honeywell is focused on technologies that create "connected homes" and "connected buildings."
Honeywell Lyric Authorized Dealer
Lifeline Fire & Security has been hand-picked to represent & install the new Honeywell Lyric by Honeywell security systems on Hawaii. Our staff is trained by the most experienced security professionals in the industry.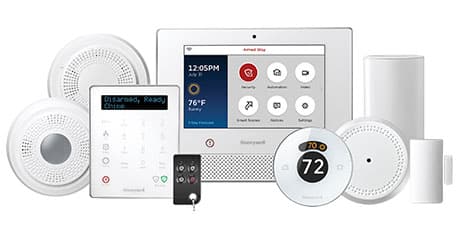 FLIR Video Surveillance Systems
Lifeline is partnered with FLIR to provide the most advance video surveillance possible for commercial security applications.
Pioneers in thermal imaging, FLIR was founded in 1978, originally providing infrared imaging systems that were installed on vehicles for use in conducting energy audits. Today FLIR's advanced systems and components are used for a wide variety of thermal imaging, situational awareness, and security applications, including airborne and ground-based surveillance, condition monitoring, navigation, recreation, research and development, manufacturing process control, search and rescue, drug interdiction, transportation safety and efficiency, border and maritime patrol, environmental monitoring, and chemical, biological, radiological, nuclear, and explosives threat detection.
If your security is compromised by unwanted entry, our emergency monitoring system activates a powerful digital alarm that contacts our 24/7 central station immediately. Our attentive operators monitor your security system and respond within seconds; and in those first crucial moments, law enforcement is alerted of your emergency.
At Lifeline, everyone from the President to the service technicians is passionate about the community of Kapolei and are committed to the betterment of the land and the well being and growth of it's people. 
Lifeline's President is also the President of the Kapolei Chamber of Commerce. Kapolei is becoming the second urban center for Oahu (after Honolulu), Hawaii's most densely populated island.