Home Automation and Fire Prevention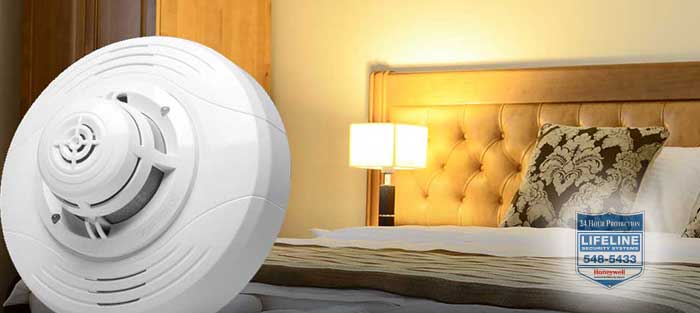 October is National Fire Prevention month. The National Fire Protection Association's Fire Prevention campaign this year focuses on the importance of smoke detectors. The public is encouraged to replace smoke detectors every 10 years. According to the NFPA, smoke detectors are the public's first line of defense in case of a house fire. And when a smoke detector is part of a home security and automation system, that first line of defense becomes even greater.
 Real Facts About Fires
The U.S Fire administration reports that fires kill more than 4,000 Americans each year and cause injury to 20,000 more.  U.S fire departments respond to 2 million fire calls each year and three-quarters of them are residential fires. Approximately 2/3 of all home fire deaths are in homes with no working smoke alarms. Direct property loss due to home fires is estimated at $7.3 billion annually.
Understanding Basic Fire Facts
When most people think of fires, they think of what they see on television or in the movies, which is a fire that erupts quickly and dramatically but leaves time to get out safely. The truth is fire can smolder for quite a while before detected naturally and it can spread very quickly. Either scenario can present huge risks the to the lives of the people in the home and potential damage to property.
Heat, smoke and fumes from fire are deadly long before the actual flames.  A smoldering fire can create fumes which make the residents drowsy, so instead of being awakened by fire they may be disoriented, asleep or incapacitated. Asphyxiation is the leading cause of fire deaths, exceeding burns by a three to one ratio.
Smoke Alarms Matter
A properly installed and monitored smoke detector is the only thing in your home that can alert you and your family to a fire 24 hours a day, seven days a week. A working monitored smoke detector significantly increases your chances of surviving a deadly home fire.
Smoke Alarms and Home Automation
Not surprisingly, smoke detectors as part of a home security and automation system can play an important role in helping limit fire damage and keeping residents safe. At Lifeline we believe in making your home a smart home. Using your home automation your smart home can help you limit the damage caused by fires.
As an example, with Lifeline's Total Connect Remote Services you can set up "scenes" to unlock your front door and turn on lights should your smoke detector alarm. This will enable neighbors or rescue workers to enter your home and find you and your loved ones easily should you be incapacitated by the fumes from a fire. A Lifeline monitored smoke detector can send signals via your security system to our monitoring station initiating an emergency response even when you have been overcome by fumes. Needless to say this will get help deployed more quickly, which ultimately limits fire damage. 
The ultimate goal of home automation, fire, home, and life safety is to protect lives and property. At Lifeline, we are dedicated to providing our customers the most effective solutions available today because you aren't just customers, you're ohana.

Latest posts by Mariette Lowe
(see all)