Improving Environmental Awareness with Access Control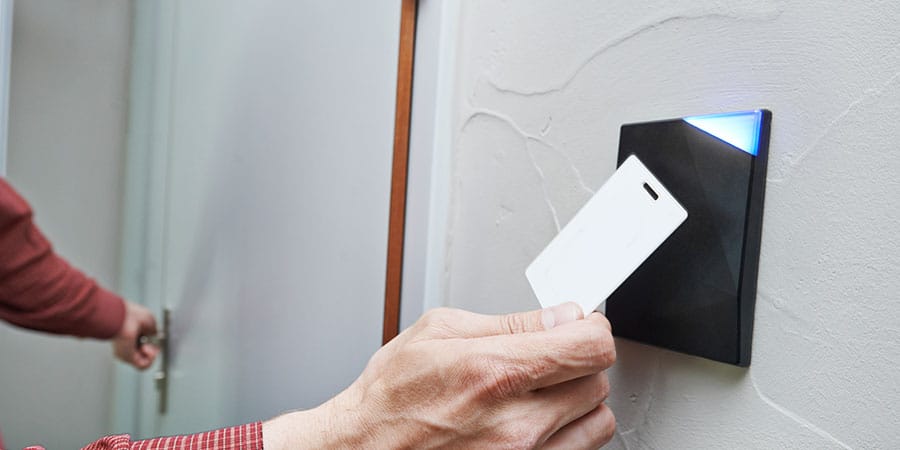 There's no denying the impact access control technology has made on business security. Now that key less entry is in the security mainstream, it should be an easy decision to trade the concern of lost keys – and, the cost of re-keying locks every time an employee is terminated – for the convenience and cost-effectiveness of electronic access control systems. But for those who still need convincing, here are some other business security benefits of making the move to access control.
Manageable Costs Starting with Installation 
Because access control systems are now wireless, the installation costs can be lower than many business owners realize. Hard wiring and complex engineering are absent from the equation, making the investment more manageable for many organizations. And of course, access control systems can continue to pay dividends over time by protecting businesses from intrusion after hours, employee overreach and dangerous unauthorized occupancy. The cost of monitoring an access control system pales in comparison to the cost of recouping losses after a break-in or the theft of proprietary information.
Because access control systems are now wireless, the installation costs can be lower than many business owners realize.
Integration for Environmental Awareness
Access control technology is incredible on its own, but it's even better when it's integrated with the business's other security technology. The effectiveness of access control systems can be multiplied when integrated with the organization's video surveillance. Using the video, an owner or manager can verify any access attempts noted in the access card's audit trail. These two systems work together powerfully for better environmental awareness and business security management.
Customization for Business Needs
When it comes to access control, businesses can customize at the most granular level. Owners can choose whether to issue employees an activated card, key fob or other credential – and of course, they can protect as many doors as they need to. It's even possible to specify access for each door on the premises by time of day, employee, or even time zone if necessary. Tell us your needs, and we'll help you discover the best access control options for you.
If your business is ready to leave keys behind, then it's time to make the shift to access control. Hawaii business owners, we would be glad to answer your questions. Call us today to discuss your options.
About Lifeline Fire & Security
Since 2002, the local team at Lifeline Fire & Security has been helping the residents of Hawaii stay safe during the holidays and all year round with professionally designed and installed Security, CCTV and Access Control systems for homes and businesses. Security has evolved a great deal since Lifeline opened its doors in 2002, so contact us today should you have any questions about adding to, or upgrading your security – we would love to help you make your home and business a smart, safe and convenient place to be.

Latest posts by Mariette Lowe
(see all)